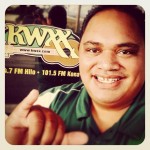 Bruddah Moks
Saturdays – 6am – 11am
Sundays – 6am – 10am 
First off let me introduce myself, my name is Clifford Kamoku Chung-Hoon Palau. Chung-Hoon is my mom and Palau is my dad. Put it together and it's too long!!!!! Lol.
How did the name "Braddah Moks" first created? Well, my middle name "Kamoku" drop the "Ka" and the "U" and add the "S." I know the original is spelled "MOKES" but i wanted to be different from all the other "Mokes" lol. And i added "Braddah" to it.
Been in radio since 2005. I would never dream that i would be in radio. I grew up listening to music both Traditional and Contemporary Hawaiian music. Backyard kanikapila's are the best to have.I also work full time job during the day time.Been in Transportation for 15 year's driving. I guess Driving and talking on the radio goes good together.
Born in Honolulu (Kalihi) and raised in Kona. Moved to Kona in 1987, graduate from Konawaena High School.
I have 2 sons, Rhider Daniel and Rhien Damon.
I'm Hawaiian, Chinese, Irish, Tahitian
Likes: Cruising with the ohana,beach,hang out with friends,video games,movies,watching the Food Channel and playing music.
Favorite things: Building city Legos. I'm a Lego fanatic!!!!!
Favorite Foods: It depends on what i feel like having to eat!
Favorite Attire: Any Aloha print or dress shirts.