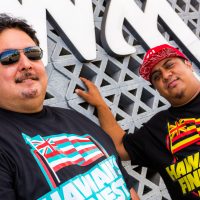 KWXX Breakfast Lū`au
w/ Keala & Loeka
5am-10am
Keala's BIO:
Conceived, born and raised in Hilo. Graduated from St. Joseph High School and surprisingly never became a police officer. Majored in Hawaiian Studies at UH Hilo. (Minored in Lunch). Somehow managed to learn the Hawaiian language between my busy schedule of partying. Worked at the Punana Leo O Hilo for five years before tricking KWXX into hiring me.
Likes: Spending time with my family. Performing with Sudden Rush. Watching wrestling. Playing video games (RPGs). Collecting action figures (NOT DOLLS!!!! BARBIE IS A DOLL. MARVEL LEGENDS WOLVERINE WITH 30 POINTS OF ARTICULATION IS AN ACTION FIGURE!!!) Anyway, Watching movies and eating good food. Rum and diet coke. Shades.
Dislikes: Grouchiness, rude people, (say thank you when I hold the door open for you.) Healthy food, centipedes, Bigfoot, exercise, carbs, hard labor, gas prices, bills, pilgrims, stereotypes, Uncle Sam (taxes) Reality T.V. rich people complaining about anything, not being rich and anyone who doesn't respect the rights and culture of the Hawaiian people.
Favorite movies: Star Wars (all of 'em). Lord of the Rings. Braveheart. Any good horror.
Favorite Books: Graphic novels. Anything by Stephen King.
Music: Anything good with substance.
Favorite actors: Robert Deniro, Al Pacino, Mel Gibson, Johnny Depp
Favorite actress: Angelina Jolie
---
Loeka's Bio – COMING SOON!