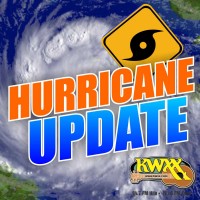 Hurricane Hilda is gradually weakening and drawing closer to Hawaii and a tropical storm watch has been issued for Hawaii County.
A tropical storm watch means that tropical storm conditions are possible within the watch area generally within 48 hours.
As of 11am HST the center of Hurricane Hilda was located near latitude 17.1 north and longitude 151.8 west or approximately 280 miles southeast of Hilo.  Hilda is moving toward the northwest near 5 mph and this general motion is expected to continue over the next couple of days. The current forecast shows Hilda taking a track further south than projected in previous forecasts. The U. S. 53rd Weather Reconnaissance aircraft confirmed that wind shear is starting to take a toll on Hilda this morning.
Maximum sustained winds are near 75 mph with higher gusts. Steady weakening is expected over the next 48 hours with Hilda forecast to weaken to a tropical storm later today.
Hurricane force winds extend outward up to 25 miles from the center and tropical storm force winds extend outward up to 85 miles.
Surf swells associated with Hurricane Hilda will produce large and potentially life threatening surf along east and southeast facing shores of portions of the Hawaiian islands over the next couple of days and a High Surf Warning is in effect until 6am Wednesday.
Although Hilda is forecast to weaken as it approaches Hawaii, the National Weather Service says in its' Hydrologic Outlook report this morning that regardless of its' strength as it approaches the State, the system has the potential to produce very heavy rainfall and flash flooding as moisture spreads from East to West over the Island Chain from late Wednesday night through Friday.  The details on the timing, location and amount of rainfall remain uncertain and are highly dependent on the eventual track of Hilda.  These rains could cause life threatening flash floods and mudslides. In an interview with sister station B97/B93's DC this morning, NWS Meteorologist  Robert Ballard said, "if the track forecast holds, some areas could see more than a foot of rain from Hilda."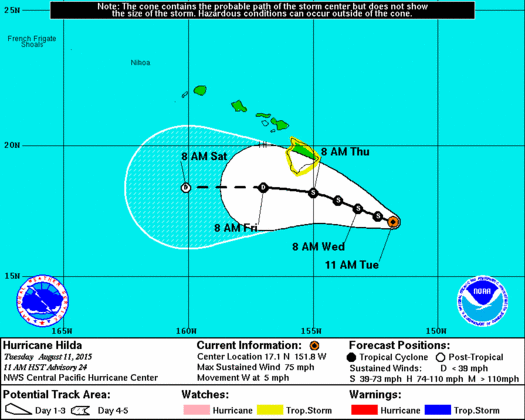 Weather related closure notices:
Hawaii National Park, HI – In anticipation of the heavy rain and wind forecast with the arrival of Hurricane Hilda, all backcountry areas in Hawai'i Volcanoes National Park will be closed as of 5 p.m. on Wed., Aug. 12 until it is safe to reopen them. No backcountry permits will be issued until park staff reassess the storm's impact.
In addition, Mauna Loa Road from Kīpukapuaulu to the Mauna Loa Lookout, and Nāmakanipaio Campgrounds and A-frame cabins, will close as of 5 p.m. Wednesday.
Much of the park will remain open, including Jaggar Museum, Kīlauea Visitor Center, restrooms, lava tube, front-country trails, steam vents, and other popular features. Visitors should be prepared for heavy rain and wind.
Park staff will continue to monitor the storm and assess conditions in the park.