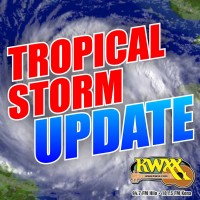 Tropical storm Hilda is moving slowly northwest
As of 11am HST the center of tropical storm Hilda was located near latitude 17.4 north and longitude 152.0 west. Hilda is moving toward the northwest near 3 mph and is expected to turn to the west tonight with an increase in forward speed through Friday.
Maximum sustained winds are near 45 mph with higher gusts.
The tropical storm watch remains in effect for Hawaii County. Tropical storm force winds extend outward up to 70 mph from the center. Buoy 510004 recently reported sustained winds at 38 mph with gusts up to 47 mph.
Hilda is currently 260 miles south east of Hilo.
As for as rainfall, Hilda may produce 6 to 12 inches of rainfall with maximum values up to 18 inches possible along and north of it's path. These rains could result in life threatening flash floods and mud slides across portions of the Hawaiian islands tonight and Saturday.
Swells associated with tropical storm Hilda will produce large and potentially life threatening surf along east and southeast facing shores of portions of the Hawaiian islands over the next day.
A flash flood watch remains in effect from 6 PM this evening to 6 am HST Saturday and a high surf warning remains in effect until 6 am HST Thursday.
Stay tuned to KWXX or continue to check kwxx.com for the latest updates.
Here's the 5:15 am Wednesday update from Hawaii County Civil Defense..