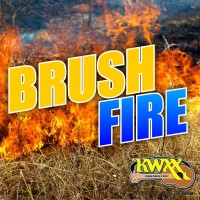 The Hawaii Fire Department spent the day battling a runaway brush fire in the Kailua-Kona area between Kololia Place and Halewai Place off of Lako Street in the Komohana Kai Subdivision.
Conditions have improved to the point where the old Kona airport gym, which was opened as a shelter for evacuated residents, has closed and residents who live on the affected street are being allowed to return home.
The Hawaii Police Department has reported that Lako Street and Kololia Street intersection is now open. Motorists are advised to proceed with caution as fire crews remain in the area to monitor and address flare ups from this brush fire.
(Photos courtesy of John McCollum)