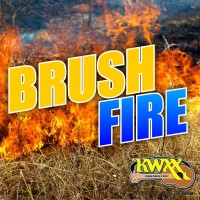 The Hawaii Fire Department is reporting a runaway brush fire in the Kailua-Kona area between Kololia Place and Halewai Place off of Lako Street.
This is in the area of Komohana Kai Subdivision. Due to heavy smoke and fire conditions some area residents are being evacuated. An emergency evacuation center has been opened at the Old Kona Airport gym.
**UPDATE 2pm** Road closure at Lako and Kololia Streets due to the brush fire. Motorists are advised to avoid the area and use alternate routes if possible.
**UPDATE 4pm** Twenty-six (26) acres have been burned but the fire is 50% contained.  Fire personnel and heavy equipment are on scene and working to contain the fire and will be there throughout the night to get the fire extinguished as soon as possible.
(Photos courtesy of John McCollum)