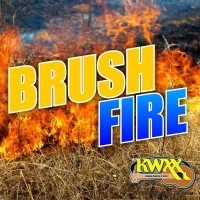 The Hawai'i Police department reports that Route 190 from Kaiminani Drive to the Daniel K. Inouye Highway will be closed in both directions as HFD Fire Crews battle a brush fire between the 24 and 25 mile post.
Motorists are being advised to take alternate routes and avoid this location. Unknown estimated time of reopening.
FROM HAWAII COUNTY CIVIL DEFENSE: Hawaii Fire Department reports a runaway brush fire in the area of the 24 mile mark of Highway 190. This is north of Kailua Kona in the Puuanahulu area and all fire activity is on the west or makai side of the highway. No homes or properties are threatened however due to heavy smoke and fire conditions Highway 190 is closed to all traffic and detours have been set up at the following locations:
· Highway 190 and Kaiminani Drive on the south or Kona side
· Highway 190 and the Daniel K Inouye Highway on the North or Waimea side
· Highway 190 and Waikoloa Road on the north or Waimea side
Motorists are advised to avoid the area and to use alternate routes if possible.
Emergency crews are on scene and working to contain the fire. It is unknown at the time when the highway may be reopened.