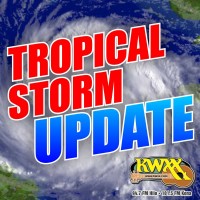 The Tropical Storm Warning for Hawai'i County has been cancelled as of 5 AM as Darby continues to move away from the Big Island.
The High Surf Warning for Hawai'i County has also been cancelled.
A Flash Flood Watch remains in effect for Hawaiʻi County as rain bands around Darby will continue to bring showers and thunderstorms through this afternoon.
A Brown Water Advisory has also been issued for Hawai'i County due to heavy rains. The public is advised to stay out of flood waters and storm water runoff due to possible contamination. If the water is brown, stay out.
HELCO crews continue to work to restore pocket power outages in Puna.
The Hele-On Bus has resumed its regularly scheduled service.
Solid waste transfer stations and landfills will also be open as normally scheduled.
County parks and recreational facilities, including the Pana'ewa Zoo and Hilo Municipal Golf Course, will reopen today. County Lava Viewing will resume Monday.
Umauma Bridge on Highway 19 in Hamakua has reopened, as has Highway 11 at the 58-59 mile marker in Kaʻu.
Emergency shelters will close at 8 AM this morning.
Continue to monitor KWXX 94.7FM Hilo and 101.5FM Kona our our sister stations B97.1FM Hilo / B93.1FM Kona  or KPUA AM 670 for more updates as necessary.