A new fungal disease is currently attacking and killing ʻōhiʻa trees on the Big Island. Hundreds of thousands of ʻōhiʻa have died across more than 34,000 acres from this fungus, called Ceratocystis fimbriata. Healthy trees appear to die within a few days to a few weeks, which is how the disease came to be called "Rapid ʻŌhiʻa Death." This disease threatens survival of our most abundant native tree and survival of the many native birds, insects and other animals that depend on ʻōhiʻa for food and shelter. Rapid ʻŌhiʻa Death also threatens our ʻōhiʻa forest watersheds that supply fresh water, a resource we rely on every day.
Rapid ʻŌhiʻa Death is spread by humans and possibly non-native beetles.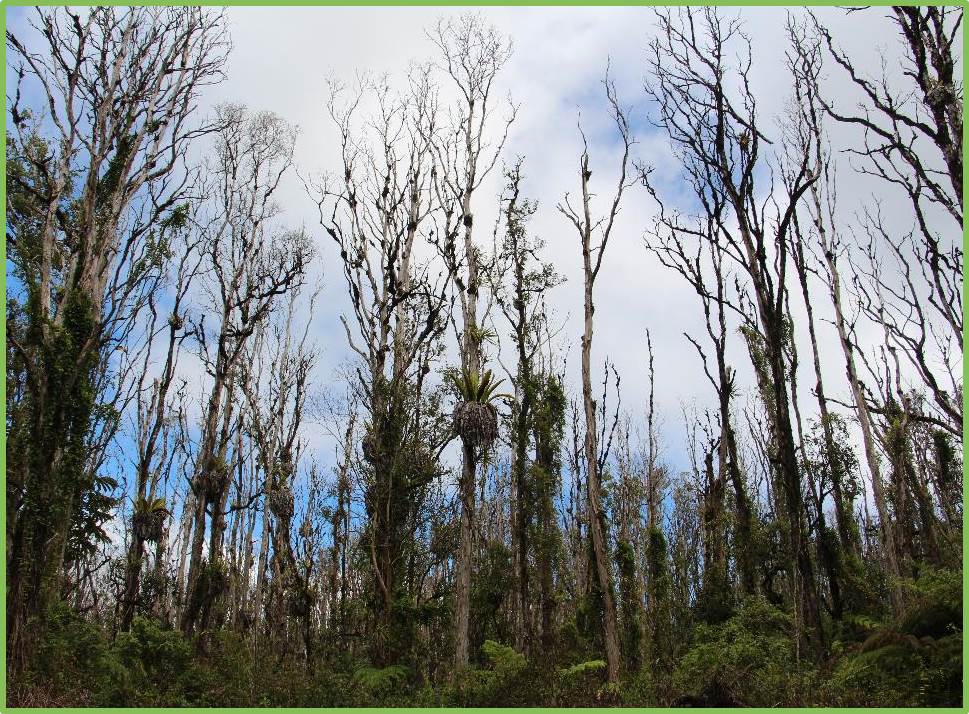 What was once beautiful native lowland wet forest in lower Puna -now the canopy is dead due to Rapid ʻŌhiʻa Death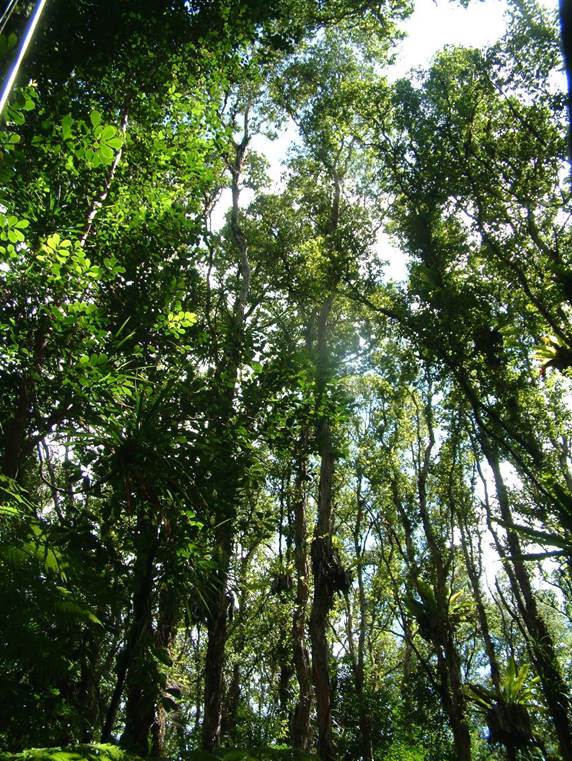 That same forest before ROD took the ʻŌhiʻa
In the wake of such a destructive disease, we ask communities to become familiar with our list of five actions to limit the spread of ROD by people.
1) Do not move wood or anything else made of ʻōhiʻa within Hawaiʻi Island.
2) Do not transport ʻōhiʻa inter-island. Follow the Hawaiʻi State Department of Agriculture quarantine rule and help to keep ROD from reaching the other islands.
3) Clean equipment used on ʻōhiʻa such as chainsaws, pruning shears, or handsaws with 70% rubbing alcohol.
4) Clean your shoes and clothes before and after entering forests. Be sure to brush any soil off your shoes and then spray with 70% rubbing alcohol if you're working in areas with infected trees. Wash clothes with hot water and soap.
5) Clean your vehicle if you've been off-roading or have picked up mud from driving. Use a pressure washer and soap to clean all soil off of your vehicle.
By following these simple practices, we can all ensure ʻōhiʻa for our future!