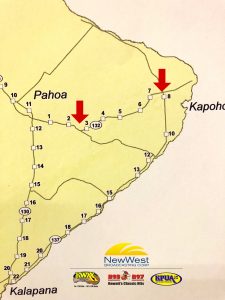 Highway 132 was shut down at 6:45 this morning from Lava Tree State Park to Four Corners due to a fast moving lava flow approaching the highway. Everyone is advised to avoid the area.
Due to the volcanic activity, the following policies are in effect:
Beach Road is the only access into lower Puna.
Access to Issac Hale Beach Park for recreation is closed.
Residents close to the active eruption must remain alert to changes in the flow direction, and are advised to prepare for voluntary evacuation should their areas become threatened.
You are advised to make necessary plans and monitor your radio or phone for Civil Defense alerts.
The National Weather Service reports Pele's Hair is falling in the Pahoa area. The following is provided for your information:
Pele's Hair is sharp, thin strands of volcanic glass fibers, carried on the wind.
Avoid touching it or getting it in your eyes.
It can cause injury to eyes and lungs if breathed in.
Pele's Hair is abrasive. If it lands on your windshield do not use your wipers to clear it.
We are on watch 24-hours a day for your safety.
This is your Hawai'i County Civil Defense Agency.