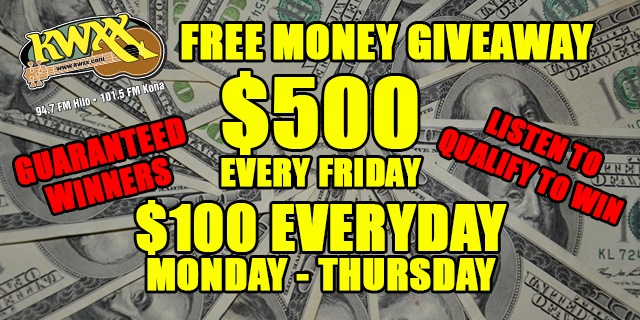 ITʻS YOUR CHANCE TO WIN FREE MONEY EVERYDAY, MONDAY THROUGH FRIDAY!
IT'S THE FREE MONEY GIVEAWAY WITH KWXX
LISTEN FOR THE KWXX / FREE MONEY SOUNDER
BE CALLER #10 AT 296-KWXX AND QUALIFY FOR THE NEXT WEEKDAY'S DRAWING AT 7:45AM WITH POMAI & LOEKA THE KWXX BREAKFAST LU`AU.
IF WE CALL YOUR NAME, CALL US BACK WITHIN 10MINS AND YOU WIN FREE MONEY!
$100 CASH PRIZES EVERY MONDAY THROUGH THURSDAY PLUS $500 FREE MONEY FRIDAY'S
EVERY WEEKLY QUALIFIER HAS A CHANCE TO WIN THAT WEEKS $500 CASH PRIZE
CONTEST RULES AVAILABLE AT KWXX.COM
PLUS – DOWNLOAD THE KWXX APP AND MAKE SURE NOTIFICATIONS ARE TURNED ON FOR AN EXTRA CHANCE TO QUALIFY!
FREE MONEY EVERYDAY AND $500 EVERY FRIDAY!
CASH WINNERS GUARANTEED EVERYDAY, MONDAY THROUGH FRIDAY!
IT'S THE FREE MONEY GIVEAWAY WITH THE STATION WITH MORE WINNERS MORE OFTEN KWXX FM!
KWXX FREE MONEY GIVEAWAY RULES
Winners must be 18 or Older
Winners must be a Hawai`i Island Resident
Prize pick up hours are from 8:30am – 4:30 pm, Monday thru Friday.
You must bring a picture I.D. to claim your prize.
Winners have 14 days to pick up prize.
All Daily Qualifiers are eligible for that weeks $500 CASH drawing on Friday.
All $500 Winners can only win $500 prize ONCE
All $100 Winners are still eligible for the $500 CASH Friday Prize.
All $500 CASH Friday Winners are not eligible to win for the duration of the Free Money Giveaway.
Prizes are subject to change without notice. KWXX / New West Broadcasting reserves the right to withhold any prizes as it sees fit.