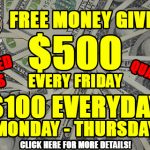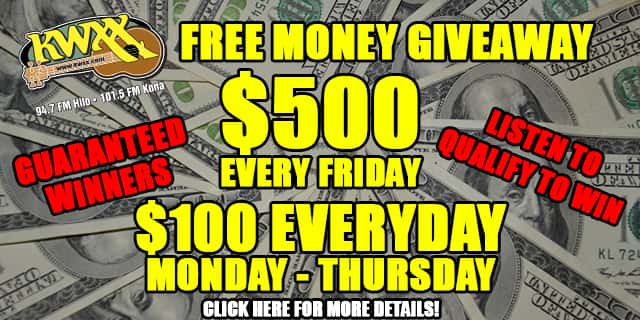 MAHALO FOR DOWNLOADING THE KWXX APP! 
IT'S THE FREE MONEY GIVEAWAY WITH KWXX
LISTEN FOR THE KWXX / FREE MONEY SOUNDER
BE CALLER #10 AT 296-KWXX AND QUALIFY FOR THE NEXT WEEKDAY'S DRAWING AT 7:45AM WITH POMAI & LOEKA THE KWXX BREAKFAST LU`AU.
IF WE CALL YOUR NAME, CALL US BACK WITHIN 10MINS AND YOU WIN FREE MONEY!
$100 CASH PRIZES EVERY MONDAY THROUGH THURSDAY PLUS $500 FREE MONEY FRIDAY'S
EVERY WEEKLY QUALIFIER HAS A CHANCE TO WIN THAT WEEKS $500 CASH PRIZE
CONTEST RULES AVAILABLE AT KWXX.COM
PLUS – DOWNLOAD THE KWXX APP AND MAKE SURE NOTIFICATIONS ARE TURNED ON FOR AN EXTRA CHANCE TO QUALIFY!
FREE MONEY EVERYDAY AND $500 EVERY FRIDAY!
CASH WINNERS GURANTEED EVERYDAY, MONDAY THROUGH FRIDAY!
IT'S THE FREE MONEY GIVEAWAY WITH THE STATION WITH MORE WINNERS MORE OFTEN KWXX FM!