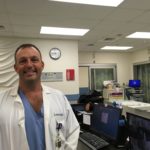 The Honolulu Star Advertiser is reporting that State Rep. Cynthia Thielen is asking for the State Legislature to appoint Lt. Gov. Josh Green, also an emergency room physician, as Hawaii's COVID-19 emergency director.
This is in the face of numerous reports by Civil Beat  and the  Star Advertiser, that Gov. David Ige has ordered the State Department of Health and other agencies not to work with Green, despite his medical expertise. The Star Advertiser reports that Ige's office says that Green has not been banned from news conferences and meetings. However, Lt. Gov. Green has not been seen at the most recent Department of Health updates nor at the Governor's news conferences about COVID-19 mitigation measures.
Lt. Gov. Green has been vocal in urging Gov. Ige to implement stringent measures to prevent the spread of COVID-19 in the state.  As a practicing physician, Green has been in a unique position to understand the medical risks to the Hawaii population.    State Senate president Ron Kouchi and Scott Saiki, Speaker of the House of Representatives, have sent letters to Gov. Ige urging him to do the same.
Green has repeatedly said his interest is in protecting the health of the people of Hawaii.
The Star Advertiser story is here.