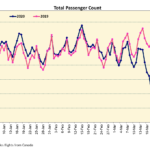 The Hawaii Tourism Authority (HTA) issued a release saying that the number of daily arrivals by air has significantly dropped over the past week.  On Tuesday, Mar. 17, Governor David Ige asked visitors to postpone their trips for 30 days, and followed with a mandatory 14-day mandatory quarantine order for anybody coming into Hawaii.  Additionally, all people in the state are now under a "stay at home, work at home" order, except for essential services and essential outings.
The average number of daily arrivals one year ago, March 2019, was 4,268.  That number does not include arrivals from Canada, only from the US Mainland.
On March 16, 2020, the number of people arriving from the mainland to Hawaii Island by air was 2,319.  On Tuesday, Mar. 24, it was 360.  This includes both returning residents and visitors.
Below is the passenger count statewide and by island.