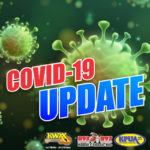 Even as the number of COVID-19 cases in the United States has grown to around 104,000, the State of Hawaii has 106 confirmed COVID-19 cases.  More than 5,000 people in the state have been tested.  State Director of Health Bruce Anderson and State Epidemiologist Dr.  Sarah Park briefed the State Senate Friday afternoon.  Anderson said of all the confirmed cases in Hawaii since the start of the outbreak, eight have required hospitalization, and as of Thursday, six of the hospitalized patients had been released.
Anderson said the Department and the State Hawaii Emergency Management (HIEMA) are tracking people confirmed to have COVID-19, as well as incoming travelers who are now subject to a 14-day quarantine.
Anderson said that HIEMA is leading an effort with the Army Corps of Engineers to identify facilities on each island that could be used as additional hospital sites, quarantine sites, or recovery sites should our hospital capacity be exceeded.  On O'ahu,  the Army Corps of Engineers is developing a plan to convert the Hawaii Convention Center's 200,000 square-foot exhibit hall to a facility, either as hospital space, quarantine space, or recovery space — if needed.   Army Corps Lieutenant Col. Kathryn Sanborn said in Gov. Ige's briefing on Thursday that the Army Corps is ready to begin work if the State says they are needed, and the time and dollars involved would depend on exactly how the site would be used.
The State Health lab is restesting and confirming all positive tests that are done here in the state to validate the process.   State Lab Director Edward Desmond said they cannot retest those done on the mainland, but the State Lab did ask each lab, no matter where located, to send in their first 5 positive and first 5 negative tests to confirm the accuracy of the testing process.
Dr. Anderson and Dr. Park stressed that there is always a lag in getting test results, so everybody should self isolate if they have been tested as the only tests that are given are to those who've been exposed and are symptomatic.  And everybody in the state should continue to practice social distancing.
Sen. Isaac Moriwake suggested the DOH get more aggressive in messaging to encourage people in the state, especially younger people, to practice social isolation.
Dr. Anderson noted that some doctors have closed up their practices since COVID-19 began.  He said this issue has been brought to their attention recently to find out why doctors are closing their doors at such a critical time, to see if there is anything the State DOH can do in providing equipment or training to better support those doctors.  Dr. Park said it may be that smaller clinics cannot get Personal Protective Equipment (PPE) — i.e.gloves, masks, gowns, etc. — since their orders are small.
Dr. Desmond from the State Lab said that antibody testing–usually done after somebody has a disease–cannot be done for at least 20 days.   That would show if somebody has had COVID-19.  And the antibody testing for COVID-19 has not been evaluated yet.  For example, people may have had another coronavirus (for  example the common cold or influenza) and right now, early on in the outbreak, there are no approved antibody tests for COVID-19.  Dr. Anderson said it will be good in the future to know who and how many actually had COVID-19, especially if, as is thought, COVID-19 might be around for quite a while and might wane and reoccur.