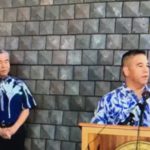 General Kenneth Hara, head of Hawaii Emergency Management (HIEMA), briefed the State Senate on Friday about specific changes being worked on to further address and stop the spread of COVID-19 in the State.
Gen. Hara said he and his team are developing specific restrictions on inter-island travel.  He said the details still need to be worked out.   He said HIEMA has to work out who might be exempted, how exemptions would be proved, and more.  Additionally, he said HIEMA needs to work with the counties and the airlines, especially Hawaiian Airlines, about any unintended consequences.  For example, if there is such a restriction on inter-island travel that flights are no longer possible for the airlines, that might negatively affect air cargo shipments.  Hara said they need to ensure they address such issues before moving forward.
Gen. Hara also said there are going to be more stringent medical screening of incoming travelers at the airports.  He said that will include temperature checks for all arrivals, but he still has to work out the details.  Right now, the air crews are temperature checked, but the passengers are not.   Gen. Hara has to determine who would do the screenings and ensure there are adequate personnel, and work out what happens next if somebody has a fever.
Photo is Gen. Hara (right) with Gov. Ige at a recent briefing.