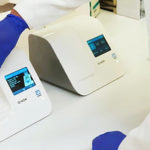 Abbott Laboratories announced on Friday, Mar. 27,  that the U.S. Food and Drug Administration (FDA) has issued Emergency Use Authorization (EUA) for a new test for COVID-19.   Abbott says the new test can provide positive results in as little as 5 minutes and negative results in 13 minutes.
Abbott Labs, headquartered in Illinois with locations around the country and in 160 countries, makes diagnostic equipment, medical devices, nutrition and branded generic pharmaceuticals.
The test equipment is small, lightweight, and portable, the size of a small toaster, and uses molecular technology.  Abbott says it will make the new COVID-19 testing platform available next week to healthcare providers in urgent care settings in the U.S.  The company is working with the Federal Government to deploy tests to areas where they can have the greatest impact.
Abbott last week launched a COVID-19 test that is used in hospitals and laboratories around the world.  Between the two platforms, Abbott says they expect to produce around 5 million tests per month.
Abbott also provides tests for Influenza A & B, Strep A and RSV testing in the U.S.
There is more here.