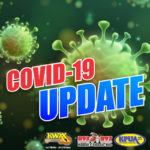 The following is a confirmed list of closures, postponements, cancellations and schedule changes in response to the COVID-19 pandemic.  The list is by no means a complete list of all events, locations and services that are impacted.  We will update this list daily as more information becomes available.  Scroll to the bottom for the latest updates.

All Hawaii Public Schools
Hawaii State Department of Education says schools should reopen April 7.  Public schools are closed now for spring break, and the break has been extended to help combat the spread of Coronavirus.  Employee return dates will be staggered.  Some employees will work remotely.
University of Hawai'i (All 10 campuses)
UH instruction will be conducted online for the remainder of the semester. Exceptions may be granted only as previously announced.
Until further notice,  campuses remain open to our students and employees.
To maximize safety, other public-facing services may be curtailed for the duration of the crisis. Campus libraries are closed to the public, and other facilities and services may follow.
Changes to facilities and practices will be made to maximize social distancing in accord with CDC guidelines for Institutions of Higher Education.
Full buildings or sections of buildings that are unnecessary during this crisis may be closed under the authority of a UH Officer. Cleaning and disinfection will be focused on areas still open to students and employees.
Traditional dining services are being phased out and replaced with To-Go, Grab-n-Go and/or Delivery food services.
Merrie Monarch Festival
"…HILO, Hawaiʻi – March 12, 2020 – In light of safety and health concerns and after serious consideration, the organizers and sponsors of the 2020 Merrie Monarch Festival announced that the event will not be held…" More information here
Haili Tournament
The 63rd Haili Volleyball Tournament scheduled for March 16th thru the 21st is postponed. The threat of COVID-19, the closure of facilities and the closure of events statewide prompts us to put the tournament on hold. We will work at rescheduling the tournament to a later date. We must all do our part to protect our loved ones and the people of our community. If you are a coach and have questions, please text your questions to me, Lyndell Lindsey at (808)896-3358 and I will respond as quickly as I can.
Hawaiian Airlines
HONOLULU – Hawaiian Airlines  announced it will temporarily suspend nonstop service between Honolulu and its Australia and New Zealand gateways starting later this month due to new government entry restrictions being imposed in response to the COVID-19 pandemic. More information here
Hawaii High School Sports
The Hawaii High School Athletic Association (HHSAA) in conjunction with its member leagues – the Big Island Interscholastic Federation (BIIF), Interscholastic League of Honolulu (ILH), Kauai Interscholastic Federation (KIF), Maui Interscholastic League (MIL), and the Oahu Interscholastic Association (OIA) – announced that effective Monday, March 16, 2020, all interscholastic competition will be suspended indefinitely based on the evolving COVID-19 public health threat.
Prince Kuhio Plaza (adjusted hours)
Effective Monday, March 16, the shopping center will operate between noon and 7 pm every day except for Sunday, when the center will close at 6pm. More information here
Lava Man Triathlon
"After a great deal of thought and research on the potential impacts of COVID-19 from the holding of the 2020 Lavaman Triathlon, we regretfully have decided that the only action we can take is to postpone or cancel the event at this time. The safety and well being of our athletes, volunteers, sponsors spectators and community must be and are our primary concern. With this in mind, we cannot in good conscience expose everyone to the potential spread of COVID-19 through their participation in the Lavaman Triathlon…."
Church of Jesus Christ of Latter-day Saints
All gatherings and public worship services are cancelled until further notice.
Kona Brewers Festival – Postponed
Mauna Kea Visitor Center is closed (parking lot and portapotties open).
Hawaiian Electric
Hawaiian Electric will be closing its walk-in payment centers on Oʻahu, Hawaiʻi Island and Maui County in order to minimize risk related to COVID-19 for customers and employees. The attached news release informs customers of the closures and provides bill payment options. Please note that the company will assess next week whether the payment centers will reopen on March 30. Customers are encouraged to:
• Mail in payment
• Use or sign up for online bill payment
• Use Speedpay®, an authorized payment service provider that allows you to pay-byphone or online (convenience fee will apply)
• Visit Western Union payment locations throughout our five-island service territory if payment must be made in person
Hawaii State Legislature
The Hawaii State Legislature is in recess. No hearings will be scheduled until further notice.
Regal Theaters – Closed effective 3/17
Bath & Body Works – Closed until further notice

Kahilu Theatre – All events through April 30th are postponed or canceled
Aloha Theater – All events through April 30 postponed or canceled .  Their annual gala, originally scheduled for Saturday, March 21 has been rescheduled for Saturday, June 27.

Hilo Palace Theater – All events postponed or canceled pending further notification.
Hawaii Island Humane Society – Tropical Paws event scheduled for March is canceled.
Catholic Diocese of Hawaii:  Bishop Larry Silva has issued the following guidelines:
-Masses at all churches are canceled through March 31, 2020
-Funeral Masses/Services and Weddings that are already scheduled to take place during this period may proceed as scheduled, but families are encouraged to limit the number of guests so that the necessary social distancing can be accomplished.
-Baptisms and other services scheduled during this time are to be postponed, and no other such services are to be scheduled during this period
-All other Catholic Church gatherings in parishes and schools are canceled, for now.
Macy's Inc. Corporate Office announced all Macy's and Bloomingdales are closed from end of business on March 17, 2020 through March 31, 2020.  Their online outlets (macys.com, bloomingdales.com) are available and fully functional
Nordstrom (for those of you who like shopping online since we have no Nordstrom on the island) announced on Monday, March 16, 2020:  The situation is changing rapidly, and to do our part in slowing the spread of the virus, we have decided to temporarily close all our stores. The two-week closure will go into effect on Tuesday, March 17. This decision includes all our U.S. and Canada stores. We remain open and ready to serve you through our apps and online at Nordstrom.com, Nordstromrack.com, HauteLook.com and TrunkClub.com—including digital styling, online order pickup and curbside services at our full-line stores, as we are allowed by local regulations.
Hawaii State Libraries:  All Hawaii State libraries will close all locations to public access effective Wednesday, March 18 – Tuesday, March 31. All bookmobile services will also be suspended during this time.  You may still drop books off, but the Library says don't worry about fines and due dates during their closure–all will be extended due to the Coronavirus pandemic.  Online services are always open at librarieshawaii.org with access to books, classes, digital subscriptions, and more.
East Hawaii Cultural Center announced on 3/17, they will close their gallery through the end of March.  Office hours will be limited, but they are always available over social media (Facebook and Instagram @ehcchmoca), email (admin@ehcc.org), or voicemail (808-961-5711)
Hawaii State Department of Land and Natural Resources has closed parks on the Big Island, effective Thursday, March 18, 2020, per a release by Dan Dennison, DLNR Commiunications Manager:
— 'Akaka Falls State Park
— Kekaha Kai State Park
— Wailoa River State Recreation Area
— Wailuku River State Park
— Hapuna Beach State Recreation Area
— Kiholo State Park Reserve
Division of Forestry and Wildlife :  Hawai 'i island's hunting tag requirements will be waived for the Spring Turkey and the Puuanhulu Archery season
Division of Boating and Ocean Recreation (DOBOR) :
All DOBOR District and Harbor offices are closed to in-person access.
All public restrooms facilities within harbors are closed.    According to the DOBOR web site, that includes
So make arrangements to use restrooms other than these locations!
Kona Beth Shalom announced on May 17, they have canceled the Shabbat weekend with Rabbi Daniel Lev scheduled for Friday and Saturday, March 27-28 due to concerns about the COVID-19 coronavirus and also canceling the community Passover seder scheduled for April 8th.
Department of Water Supply
DWS prioritizes health and safety, which is why it will suspend all in-person payment collections and customer service inquiries for 30 calendar days starting Friday, March 20. During this period, DWS will accept only telephone, online, auto-payment and payments sent through the mail. All customer service inquiries will be handled by phone or email. The public's understanding is very much appreciated.
The remote payment options are free and secure.
To pay a DWS water bill online, please visit www.hawaiidws.org, click on the "Pay Your Bill Online" tab on the home page and follow the easy-to-use self-service portal. Don't forget to input the full nine-digit ZIP code. Please make certain to visit the official DWS website, which has a homepage featuring a waterfall, to avoid mistakenly making payment through unauthorized copycat sites that charge fees.
Restaurants:  Although Governor Ige has urged restaurants statewide to offer only takeout or delivery, Mayor Harry Kim has asked Hawaii Island restaurants to make their own decisions and to continue to offer food one way or the other if they can, for both visitors and local residents.  So check with your favorite restaurant before going, to find out if they are open or to place your order for takeout.
Haili Church in Hilo:  Haili Church and Kuhio Chapel will be closed March 22 and 29.  You can connect through Facebook Live at 10:00 am both Sunday mornings through the Haili Congregational Church Facebook page.  Please look up and "like" the page in advance to join in with the rest of the church digitally Sunday.  Lord willing, the churches will be back together on Palm Sunday, April 5.  Check the hailichurch.org website or Haili Church and Kuhio Chapel Facebook pages for future updates.
Astro Day, originally scheduled for May 2, 2020 at Prince Kuhio Mall– a day filled with all things science, technology, and astronomy– has been cancelled.   It will be rescheduled, if possible, once the COVID-19 crisis is over.
State and County Beaches and Parks:  Hawaii County parks are open for now, but beach parks under both County and State control are closed to the public, to eliminate what officials have seen in the last several days when crowds flooded areas and there was no social distancing as required to combat COVID-19.  The State has also closed all parks and trails and cancelled all ocean activity permits.
Hawaii Volcanoes National Park will close completely on Sunday, Mar. 22, 2020, until further notice.  All tour and camping permits are cancelled.  The Kahuku Unit will also be closed.
Hilo and Kona Seaside Hotels will close temporarily.  The Hilo Seaside Hotel will close Monday, Mar. 23 at 12:01 a.m.  The Kona Seaside will close Thursday, Mar. 26, at noon.   See story
Body Glove Cruises has temporarily ceased operations.  Owner Maggie Brown posted this:  Today has been the most difficult day in my 32-years of operating Body Glove Cruises. I cried myself to sleep last night knowing that today, I would be temporarily closing the business and laying off over 40 employees. ALL who are like family members to me.
Prince Resorts Hawaii has announced the closure of the Mauna Kea Beach Hotel, the Westin Hapuna Prince Hotel, and the Prince Waikiki,  effective immediately.  Flight crews will still be allowed to stay at the hotels, and existing guests may complete their stays. The closure is effective through April 30, 2020.
Imiloa Astronomy Center 
is closed through April 30.  They are a new and free online progrma   
Imiloa@Home: Resources for Backyard Explorers 
available through our
website
.
Habitat for Humanity Restore Locations in Kona, Hilo, and Waimea, are closed until further notice.
Hilo Bay Cafe is closed for now.
Uncle Billy's Kona Bay Hotel is closed.
Kona Trolley, which provides shuttle service through and around Kailua Village and Ali'i Drive, is suspending service until further notice.
Most hotels are closed.  Those open include Sheraton Kona, Hilton Waikoloa, Fairmont Orchid, Grand Naniloa,  the Hilo Hawaiian, the Manago Hotel, and some smaller inns and Bed and Breakfasts.  Kamuela Inn, owned by local resident Tim Bostock, remains open.
Waimea Nature Park, Ulu La'au, closed from Sun. Mar. 29, 2020 until further notice.
Hilo Muni Golf Course closes April 1, 2020.