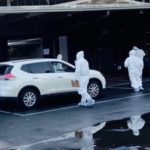 Premier Medical Group says they will continue to do "drive through" testing for COVID-19 every Sunday near Hilo Civic Auditorium, from 8  a.m. until 3 p.m.
On-site medical professionals will assess whether people meet  the criteria for testing.   In an interview with Darrin Carlson of New  West Broadcasting (KWXX and B97/B93), Dr. Dr. Ka'ohimanu Akiona  said part of the process is educating the public on why they do or do not  meet  the criteria for testing.  Bruce Anderson of State Department of Health has said unless people  have symptoms, they may not test positive even if they have the virus.
The screeners will  ask for a photo identification.  If you have insurance, please bring  your  card.   No doctor's order is needed–the screeners will  determine whether people need testing.  Please note, because of health concerns, the team will not be able to provide  pens  or clipboards to fill out the forms, so those who come should bring their own pen plus a hard surface to put the registration form on to write.
Those tested will  get the results from the Department of Health within 7 to 10 days.  In recent press briefings, DOH Director Bruce Anderson says the time is getting shorter to get results, as soon the backlog of tests will be down and more of the tests are being done here in the state with fewer sent to the mainland.
Questions, call Nani at Premier Medical Group at 808-213-6444