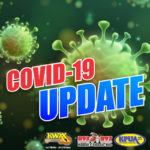 The State Department of Health says the State has 4 new confirmed cases of COVID-19 in the state.  One is in Maui County, and 3 are on Hawaii Island.   One week ago, on May 14, Hawaii County had 75 confirmed cases; that count has jumped by 7 since then, and today that confirmed count is 82, 6 of which are active.   Hawaii County Civil Defense on Thursday morning, in response to an inquiry as to where on the island these cases are located, said "they are on the Big Island."  The State's COVID-19 Joint Task Force said, in an email:  "While it is true that the two latest reported cases on Hawaii island are household contacts of a confirmed case, they are all in isolation.  Unless health authorities deem that these cases pose a risk to the greater community, they're not going to release specific geographic data."
Mayor Harry Kim said earlier that several cases are part of a family cluster, and after the first cases, mentioned the first case of this week was in someone who had traveled to the island from California.
The State has 647 overall cases, with 579 released from isolation and 68 cases still being monitored–including the 6 on Hawaii Island.
Mayor Kim has stressed the importance of continuing to wear face masks in public and to maintain a six-foot distance from others.
Hawaii's Lt. Gov. Josh Green, a medical doctor, said at a Thursday press conference that out of 83 people who had to be hospitalized, there are no more than a handful of people still  in the hospital.
Cumulative totals as of 12:00 noon on May 21, 2020
Statewide
COVID-19 Positive* Cases
| | |
| --- | --- |
| Total Cases | 647 (4 newly reported) |
| Released from Isolation† | 579 |
| Required Hospitalization | 83 |
| Deaths | 17 |
By County
COVID-19 Positive* Cases
| HAWAII COUNTY | |
| --- | --- |
| Total Cases | 82 total |
| Released from Isolation† | 76 |
| Required Hospitalization | 1 |
| Deaths | 0 |
| HONOLULU COUNTY | |
| --- | --- |
| Total Cases | 416 total |
| Released from Isolation† | 385 |
| Required Hospitalization | 58 |
| Deaths | 11 |
| KAUAI COUNTY | |
| --- | --- |
| Total Cases | 21 total |
| Released from Isolation† | 20 |
| Required Hospitalization | 1 |
| Deaths | 0 |
| MAUI COUNTY | |
| --- | --- |
| Total Cases | 118‡ total |
| Released from Isolation† | 98 |
| Required Hospitalization | 22 |
| Deaths | 6 |
| HI Residents diagnosed outside of HI | 10 total |
| --- | --- |
| Required Hospitalization | 1 |