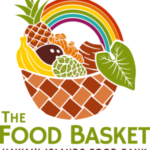 The Hawaii Island Food Basket has an 'Ohana Food Drop today at Old Kona Airport, starting at 10 a.m. and going until the food supply is depleted.
Food Basket Executive Director Kristin Frost Albrecht says the demand has grown since the COVID-19 crisis has started, and that there is no shame in accepting food.  Everybody who needs food should come and stay in their vehicle.  Hawaii County Police, Sheriffs, and National Guard will help direct traffic and put food directly into the vehicle, so make sure there is enough room in your trunk or back seat for a basket of food plus some fresh produce and some refrigerated food.    Ms. Albrecht also said it's good to bring a cooler in which to place the refrigerated food.
Other 'Ohana Food Drops this week are Friday, tomorrow, at Papa'aloa Community Center at 10 a.m. til noon (food supply depending)  and at Honoka'a Sports Complex and Skate Park,  1 p.m. until 3 p.m.
Below is the schedule for the rest of the month:
Kona | Old Kona Airport Gym Location | Thursday, May 21 | 10am – 12pm*
Papaaloa | Papaaloa Community Center Gym | Friday, May 22 | 10am – 12pm*
Honokaa | Honokaa Sports Complex and Skate Park | Friday, May 22 | 1pm – 3pm*
Pahala | Ka'u District Gym  | Tuesday, May 26 | 10am – 12pm*
Mountain View and Volcano |Cooper Center | Wednesday, May 27 | 10am – 12pm*
* Or until food supply is depleted. Please arrive early.
To hear a short interview recorded on Wednesday, May 20 with Kristin Frost Albrecht about what the Hawaii Island Food Basket, click here.