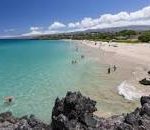 The Hawaii State Department of Health and top government officials ask people to continue with safe practices over this Memorial Day weekend to prevent the spread of COVID-19.  They say beaches and parks may be crowded with Hawaii and residents, plus visitors who have cleared their 14-day traveler quarantines.
Health officials and state leaders are encouraging continued social distancing, wearing of masks while around others or inside businesses, and frequent hand washing, as necessary for keeping the COVID-19 case count low or at zero.
Governor David Ige's emergency rules disallow gatherings of more than 10 people and require six feet of social distance unless they are members of the same family. Dr. Bruce Anderson, Dept. of Health Director, said, "Please, please, if you have young people in your family, talk to them about how important social distancing is right now. The last thing anyone wants to happen is to have an asymptomatic family member infect aunty or uncle, grandmother or grandfather."
Hawaii County Mayor Harry Kim issued an order that opened the County's beach parks on Wednesday, but with rules that include the cautions listed above–no more than 10 in a group, staying 6 feet apart from others, and playgrounds and sports fields still closed.  Click here for information on those rules.