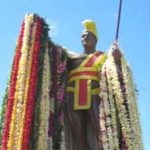 The State Department of Accounting and General Services, commonly known as DAGS, put out a notice that all King Kamehameha Day Celebration events around the state are cancelled, because of the continued threat and uncertainties around the COVID-19 pandemic.

This includes the lei draping ceremonies, parades, and ho'olaule'a on and around the June 11 holiday.
Kainoa Daines, Chair of the King Kamehameha Celebration Commission said, "The decision to cancel these major, statewide events was made with the health and safety of our island communities and kūpuna in mind. We look forward to commemorating and celebrating Kamehameha Pai'ea in 2021."
For more information, click here.