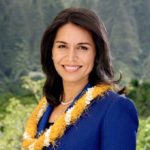 U.S. Representative Tulsi Gabbard, who has represented Hawaii's Second Congressional District since 2012,  is hosting telephone town halls about COVID-19, every Wednesday at 4 p.m.  Gabbard calls those who sign up and they may listen to Gabbard and her guests discuss the state's COVID-19 situation and also may ask questions.
Some of Gabbard's guests have included Lt. Gov. Dr. Josh Green; Dr. Scott Miscovich, who has been spearheading testing on all islands; Shawna Lamothe from the IRS and Gayvial James from the IRS Local Taxpayer Advocate office; representatives of the SBA (Small Business Administration) talking about the Payment Protection Program (PPP);  Sherry Menor-McNamara, the Chamber of Commerce of Hawai'i's President and CEO;  local military base commanders; and more.
Gabbard is not running for re-election as a U.S. Representative after an unsuccessful bid for the Democratic nomination for President.
To sign up and learn more about the town halls, click here.
The previous town halls are also online for anytime listening.