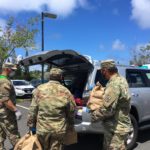 The Hawaii Island Food Basket, the island's only food bank, will give away food today to anybody who needs it at Kahuku Park in Ocean View starting at 10.  They will also give away food Wednesday in Hilo at Afook Chinen Auditorium, starting at 10,  and Thursday at Waimea District Park, starting at 10.   Food Basket Executive Director Kristin Frost Albrecht asks those coming to have space in their trunk or back seat for the food.  She also says car pooling for more than one family is fine, to reduce traffic.  The food drop will go til noon or til the food supply is depleted.
The Hawaii Food Basket has received several generous donations, but is now spending each month what they used to spend in six months.  Anybody wishing to donate money may do so; more information is at hawaiifoodbasket.org
The Hawaii Food Basket also welcomes donations of local fruits and vegetables. They've also received donations of fresh fish.   For information on how to make those kinds of donations, call the Food Basket at 808-933-6030.
Frost Albrecht says the food drops will continue as long as needed.  Right now, most food pantries that offer food are closed because of COVID-19.
The National Guard and local sheriffs and police are helping the Food Basket with the food drops.
Frost Albrecht stresses that all are welcome to get food, and that they are seeing many first-time recipients.
Below is the schedule for the rest of June:
Ocean View | Kahuku Park | Tuesday, June 9 | 10am
Hilo | Afook-Chinen Civic Auditorium | Wednesday, June 10 | 10am
Waimea | Waimea District Park | Thursday, June 11 | 10am
Kona | Kona Community Aquatic Center | Thursday, June 18 | 10am
Pahoa | Pahoa Community Center | Friday, June 19 | 10am
Kohala | Kamehameha Park | Monday, June 22 | 10am
Volcano | Cooper Center | Wednesday, June 24 | 10am
Hookena | Hookena Elementary School | Thursday, June 25 | 10am
Papaaloa | Papaaloa Community Center Gym | Friday, June 26 | 10am
Honokaa | Honokaa Sports Complex and Skate Park | Friday, June 26 | 1pm
Pahala | Kau District Gym | Tuesday, June 30 | 10am
Photo is National Guard members putting food in a vehicle on Thurs, May 29, at Old Kona Airport Gym.