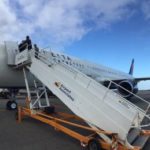 Following Saturday's arrival in Kona of 50 visitors and 8 people who said they were relocating to the state, on Sunday, 52 visitors and 5 people relocating landed in Kona…along with 49 returning residents.  Hawaii Tourism Authority said on Sunday, 1,497 people came in from out of state, which included 361 visitors, 63 people who said they were relocating to Hawaii, and 509 returning residents.
Everybody coming into the state, except for the airline crews, passengers in transit who never leave the airport, and those deemed exempt by the state (usually essential workers) must follow the mandatory 14-day quarantine.  On the Big Island, Mayor Harry Kim said those people subject to quarantine must stay in hotels, not vacation rentals.
Hawaii County Civil Defense is the county agency that helps monitor compliance.  If needed, they are at 808-935-0031.
Crew = flight crew members
Transit = people who are in transit to another location through Hawaii and aren't leaving the airport
Military = military exempt personnel
Exempt = people who are exempt from the 14-day quarantine after receiving prior approval from the state
Relocate to Hawaii = people who are moving to Hawaii
Returning Resident = people who indicate on the DOT's form that they're returning residents
Visitor = people who are not in the above categories
Photo courtesy Delta Airlines.