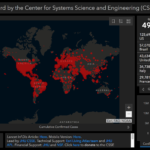 The Johns Hopkins COVID-19 Dashboard for Sunday morning, June 28, at 7:33 a.m.:
Worldwide cases: 10,044,731     Worldwide deaths: 499,892
U.S. cases:  2,531,733   U.S. deaths:  125,691
According to the Dashboard, the worldwide cases increased by 178,046 in the last 24 hours, and confirmed worldwide deaths grew by 4.200.
According to the Dashboard, the United States has added 43,696  cases in the last 24 hours, and deaths attributed to COVID-19 have increased by 436.
The  Johns Hopkins Dashboard statistics, gathered from numerous sources around the world, show a significant increase in cases both worldwide and in the United States.  The U.S. has more than 25% of the cases in the world.
Health and government officials throughout the mainland United States are expressing alarm over the spikes in cases.  Florida, Texas and Arizona have seen spikes following reopening and seeing people eschew social distancing and mask-wearing guidelines, especially young people.
On Friday, at the first media briefing of the White House COVID-19 Task Force in two months, Dr. Anthony Fauci asked young people to follow guidelines not to protect themselves, but for them to do this to protect others whom they might infect.  He said many people who have the virus don't show symptoms, so may unwittingly spread it to those most vulnerable.
Both Arizona and Texas have reported record numbers of hospitalizations, with some hospitals now close to or filled to capacity.   Texas and Florida have closed bars or are no longer allowing them to sell alcohol and are scaling back restaurant openings.  Beaches in Miami-Dade County will close for the upcoming July 4th weekend.
Los Angeles has the highest COVID-19 rate in California, and in San Francisco, Mayor London Breed is now pulling back some reopenings planned for Monday.
On Fox News Sunday, host Chris Wallace spoke with Dr. Tom Frieden, former head of the CDC and now President & CEO of Resolve to Save Lives.  He said the virus has the upper hand at this point.  Dr. Frieden said if states reopen businesses with cases on the increase, citing Arizona, Texas, Florida, and South Carolina, the cases will only get worse.  He also said we are likely to see a continued increase in cases as it takes a while for the impact of people being too close together to result in cases.
Wallace asked him about President Trump's statements, in several interviews including with Sean Hannity on Fox News last Thursday,  that the surge is because the country is doing more testing, and that "if we didn't do testing we'd have no cases."  Frieden said "with 100% certainty … in most states where you're seeing an increase, it is a real increase, it is not more tests, it is more spread of the virus  and one number to look at that's very important is the percent of tests that's positive."  He also said we are only diagnosing 10% to 20% of all cases, echoing the words of Dr. Robert Redfield, head of the CDC now, who spoke in a telephone media briefing last Friday.
He also said although the health community is getting better at caring for COVID-19 patients, the country can expect at least 15,000 more deaths in the U.S. in the next month.
Frieden said public health measures –wearing a mask, washing hands, and watching one's distance from others — are not in the way of our recovery, they are the route to our recovery.