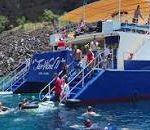 In welcome news to ocean recreation boat operators,  the State Department of Land and Natural Resources is lifting the COVID-19 emergency restrictions imposed on larger commercial and recreational boating, and on ocean recreation.
On Hawaii Island, a number of ocean recreation businesses had to completely shut down during the COVID-19 pandemic and had not been allowed to reopen, even at a time when restaurants and other businesses were allowed to reopen.  The vessels include Fair Wind and Hula Kai, both part of Fair Wind Cruises, and Body Glove, both of which can normally carry more than 100 guests.  Other smaller operators have also had to stop carrying tour groups:   Sea Paradise,  Ocean Sports, Sea Smoke, Captain Zodiac, Sea Quest Rafting and Jack's Diving Locker, among others.
DOBOR Administrator Ed Underwood said, "This change in rules is effective immediately and allows commercial and recreational boats, with a rated U.S. Coast Guard capacity of more than ten, to exceed their rated capacity by no more than 50 percent, provided they operating under the Boating and Ocean Recreation COVID-19 guideline.
Mendy Dant, owner of Fair Wind Cruises, which sails out of Keauhou Bay, and Maggie Brown, owner of Body Glove Cruises, which sails out of Kailua Pier, both expressed relief and delight over the change.  But making it through 2020 will still be a challenge, depending on when tourists return.
Dant, whose father-in-law Mike founded Fair Wind 50 years ago, said he had an entrepreneurial spirit and that she and the Fair Wind team are calling on that same spirit to come back from this extremely long closure.  Fair Wind will offer private charters and cruises with guides for now, and reopen fully with Fair Wind II and Hula Kai at least by August 1.
She noted it took the Governor, Department of Health, and Department of Land and Natural Resources a lot of contemplation to allow outdoor ocean tours to resume, even though enclosed restaurants and bars opened sooner.
Rich Kersten, President of Sea Paradise at Keauhou, said "Monday was a "great news" day for us! We were very pleased to hear that the DLNR/DOBOR had opened up commercial ocean tour operations to allow us to carry up to 50% passenger capacity onboard while practicing safe social distancing and following CDC guidelines. We had also received news from the State Parks Department that Kealakekua Bay would reopen on July 1st."
Many sea tour operators have said they are hoping to serve the kama'aina market initially pending the return of out-of-state visitors.
The protocols cover physical distancing, hygiene protocols, staffing, and cleaning and disinfecting.
All crews and passengers are covered by these rules and they apply to all commercial and recreational boats in all four counties.
The guidelines are here:   Boating-and-Watersport-COVID-19-Guidelines