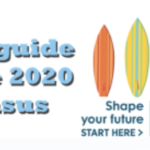 Census workers are on Hawaii Island, delivering census forms to households without a street address or areas without U.S. Mail Delivery.  The Census forms are not mailed to Post Office Boxes.  The door-to-door census form drop was delayed because of COVID-19 concerns.  Anybody coming to a home will have proper U.S. Census identification, but the plan is to just leave the census form without contacting those in the home, for now.
According to the U.S. Census Bureau, as of June 28, 58% of Hawaii's households--340,000– had returned the census form, placing the state in 34th place among all the states and U.S. territories.
Hawaii County, according to the State, has had only a 43% response rate, placing it below Honolulu County (64.1%), Kaua'i County (48.7%), and Maui County (48.1%).
The census, or counting of every person in the country, is required by the U.S. Constitution.  The founders' intent was to use the census to determine Congressional representation, and it is used for that and more.
The census is critical to Hawaii County's future, as much of the federal funding that comes to the County is in direct proportion to the population as counted in the census.
In December, 2019, U.S. Senator Brian Schatz detailed some of the specific funds that had come to the state.  Some of the programs supported by federal funding include programs for keiki and kupuna, programs to help those with financial challenges, Native Hawaiian programs, homeless support, highways, health care, education, disaster support, assistance for veterans, and more.
For an informational video on the 2020 Census and Hawaii, click here.
The Census may be filled out online whether or not you have the forms, at 2020census.gov