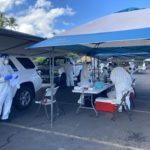 Hawaii County Civil Defense has announced there is a drive-through testing for COVID-19 at Hawaii Preparatory Academy on Kohala Mountain Road, from 11 a.m. until 2 p.m.  The testing will be the standard PCR test, conducted by Premier Medical Group.
In addition, the normal scheduled testing by Ali'i Health Center at Keauhou Shopping Center is today, and every Monday, Wednesday, and Friday from 9 am. until noon.  The test location is behind the Regal Cinemas.
For all COVID-19 drive-through testing, you are asked to remain in your vehicle and wear a mask.  Medical professionals will screen you and provide testing.  Additionally, if you need antibody testing, to confirm your antibody level after having a confirmed case of COVID-19 or suspecting you had it,  the team can arrange for that kind of testing, which requires a blood draw.
On July 10, the County provided an updated list of test sites.  Click here for that list.
Photo is drive-through testing by Ali'i Health Center.