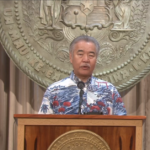 Governor David Ige, Lt. Gov. and emergency room physician Josh Green, M.D., and Dr. Bruce Anderson, head of the State Department of Health, talked in an online broadcast today about the COVID-19 situation in Hawaii.  This comes on a day when the state announced it has 109 new cases, the most ever reported.  The state's total case count is 1,865, with 624 active cases.  None of the new cases is on the Big Island, but there were 98 new on O'ahu, 9 in Maui County, and 2 on Kaua'i.  Dr. Anderson said 23 of the new cases are juveniles, under 18.
Anderson said a big concern is that after months of 1% to 2% positivity rate, the latest tests show a 6% positive rate, showing that there is widespread community spread.  Only 4 of today's cases are travel related.
Gov. Ige said he's concerned that people are no longer paying attention to the safeguards which are known to fight the spread of COVID-19, which include the well-known procedures of wearing a mask, staying at least 6 feet from others, and washing one's hands frequently.
Gov. Ige said he is reinstating the order that gatherings, even outdoors, be limited to 10.  And on O'ahu, he is confirming Mayor Kirk Caldwell's request to close bars for 3 weeks.  He said Dr. Anderson will meet with all the county mayors this afternoon to discuss what the next steps should be.  Dr. Anderson said at least 12 cases are associated with two bars on O'ahu, and bars inherently have been found to encourage risky activity nationwide because people don't wear masks and often sit close together and have to talk loudly to be heard.  He did say the DOH is working with bars to find the right solution.
(Dr. Bruce Anderson)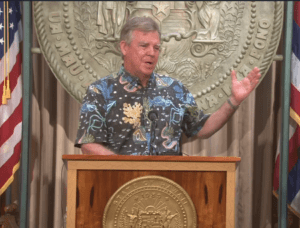 Anderson said the Department of Health is keeping up with contact tracing, with 179 DOH employees and 400 more trained and able to be hired if needed.  Anderson said they just hired 20 of those people and plan to hire 20 more.
Hospital capacity is still good.  Dr. Josh Green said out of 244 ICU beds, 122 are occupied, or 46%.  Only 15 of those patients have COVID-19.  Hospitals throughout the state have 459 ventilators, with 64 in use, or 14%, and only 9 of the 64 patients have COVID-19.  There are 2,273 hospital beds in the state, and hospitals do have the capacity to create more by using spaces not normally used as hospital rooms.  Right now, there are 61 COVID-19 patients in the hospital, with 167 cumulative having been hospitalized with COVID.
(Lt. Gov. Josh Green, M.D.)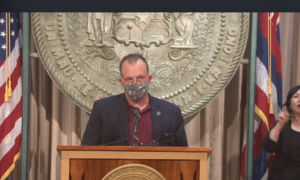 Dr. Green said this month we've had 958 new cases of COVID-19, whereas in the previous 5 months, there were only 900.  Today, there are 624 active cases.  He said out of this month's count, we can expect 100 of those people to end up hospitalized.  The average length of stay with COVID is 10.5 days, and there is a 2 to 3 week lag between being diagnosed and being hospitalized, for those who require it.
The state's death toll from COVID-19 has been 26, the lowest mortality rate in the U.S.
The complete county-by-county detail of today's new cases is here: