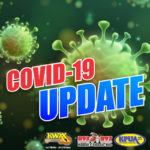 Hawaii State Department of Health announced that today, 109 new cases of COVID-19 have been confirmed for the state.  That is the highest single-day count since counting began in March.
None of the cases are on Hawaii Island.  O'ahu has 98 new, Maui  County has 9 new, and Kaua'i has two new.  The total number of cases in the state is now 1,865, with 1,215 released from isolation.
State Department of Health officials said an increase was expected, since the State Lab and some others had a slowdown in testing over the weekend and on Monday due to Hurricane Douglas, which didn't hit the islands but was expected.  A total of 5,160 tests were processed between Saturday and today. Normally, about 1,000-2,000 tests are processed each day.
"The dramatic increase in cases reported today was anticipated based on recent trends since the Fourth of July weekend, which continue," said State Health Director Dr. Bruce Anderson. "We are seeing an increase in small and large social gatherings, including gatherings on beaches and in our parks, at homes and in workplaces. We have also recently seen an increase in cases associated with bars, gyms other establishments where physical distancing and masking is not regularly practiced. Based on data collected on cases through our investigations and contact tracing, we are recommending that strategic actions be taken to further restrict activities associated with these cases," said Anderson. Venues where multiple clusters have been identified, such as in bars and gyms, will obviously be targeted, said Anderson.
DOH officials have said for many days that the growth in cases is directly related to social interactions and gatherings, religious functions, funerals, and other similar situations with people not distancing and not wearing masks.  Dr. Anderson said if we are to open the schools, adults have to set good examples.
Gov. David Ige, Dr. Bruce Anderson, and Lt. Gov. Dr. Josh Green will hold a press conference today at 1 p.m. to address this considerable spike, including how this has affected the state's hospital capacity.  It will be available on Gov. David Ige's Facebook Page, and likely will be on local television stations.