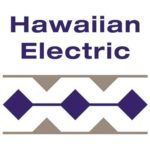 Hawaiian Electric suspended disconnecting customers' service for nonpayment in March because of COVID-19, and that will continue through August.  Disconnection for nonpayment will resume after September 1, and late fees will again be imposed after September 15.
If Hawaiian Electric customers are having difficulty paying their electric bill, they may qualify for assistance from some of the counties offering help to those affected by the COVID-19 pandemic.
There are individual programs set up by the City and County of Honolulu and Maui County for residents of those counties.
On the Big Island, the Hawaii County Economic Opportunity Council (HCEOC) is administering the Low Income Home Energy Assistance Program.  According to Gail Shioshita at the HCEOC office, the program to assist people with a $1,000 one-time payment for utility bills that are late because of COVID-19 expires this Friday, July 31. 
However, there is an ongoing  program called Emergency Crisis Intervention, an ongoing program for which people may apply once every year.   The program only takes 20 people per month, Shioshita says, and the maximum dollar payment is $650.
For more information on the special COVID-19 program that expires Friday, or the ongoing ECI program, please contact Gail Shioshita, at (808) 961-2681 ext 303 or 061-2681 Ext. 108 for Office Manager Blossom Evans  or email Ms. Shioshita at hceocliheap@gmail.com
To avoid disconnection, customers who are having trouble paying their electric bill must contact Hawaiian Electric to set up a payment plan.  There are several programs to assist customers at  www.hawaiianelectric.com/paymentarrangement, which includes information on available payment plan options. A link to a payment arrangement request form is available on that webpage; the form can be emailed to Hawaiian Electric Company. Submitting the form is the quickest way for customers to start the process.
The company's walk-in payment centers remain closed until further notice.
Customers who prefer to pay in person may do so at no charge at Western Union payment locations at retailers throughout the company's service territory. The company website lists the locations.
For assistance managing energy costs, Hawaiʻi Energy is a trusted resource for tips and rebates to help offset the costs of energy-saving equipment and services. Visit https://hawaiienergy.com/tips for more information.