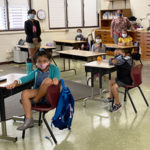 The Kaiser Family Foundation, a nonprofit health-focused news source, has looked at children and COVID-19 as communities–including Hawaii–get ready to reopen schools.  Hawaii's current school start date is August 4, but the Board of Education is considering a delay until August 17, requested by the Hawaii State Teachers Association (HSTA).
KFF has also compared the daily increase of COVID-19 in several countries which have reopened schools, including looking at the positivity rate, since the United States has a higher daily case rate than any other country at this point.
Some of the findings, reprinted with permission:
Children who are infected with COVID-19 are more likely to be asymptomatic and less likely to experience severe disease (though a small subset become quite sick), they are capable of transmitting to both children and adults.
What remains unclear and where evidence is still needed is: whether children are less likely to be infected than adults and, when infected, the frequency and extent of their transmission to others. There is some evidence for an age gradient in infectiousness, with younger children less likely and older children more likely to transmit at levels similar to adults.
While other countries that reopened schools have generally not experienced outbreaks in school settings, almost all had significantly lower levels of community transmission than the U.S. and greater testing and contact tracing capacity. Moreover, several disease clusters connected to schools and children have been reported.
Taken together, the evidence indicates that where there is already widespread community transmission, as in many areas in the U.S., there is clearly a risk of further spread associated with reopening schools. The risks of reopening need to be considered carefully in light of the recognized benefits of in-person education
The article also looks at what happened in communities where schools have reopened, and found there was rarely a surge as a result of school openings.  It's believed the lack of a surge is because of low levels of community transmission, plus greater testing and contact tracing capacity than is available in the United States.  But the date is for the entire country, not Hawaii-specific, where the case count per capita is lowest in the country.
Some data about children and COVID-19:
Children, under the age of 18, to date, account for:
7% (more than 200,000) of reported COVID-19 cases* (source CDC)
<1% of reported COVID-19 deaths* (source: CDC)
1% of reported COVID-19 hospitalizations (source: CDC)
The number of reported cases of Multisystem Inflammatory Syndrome in Children (MIS-C) is 342, including 6 deaths, among states reporting data (source: CDC)
*Based only on data for which age group information was available.
For a link to the original article, including a detailed table of country-by-country comparison data,  click here.
The Hawaii State Board of Education meets Thursday at 1 p.m. to take public testimony and consider delaying the start of children returning to in-person learning from  August 4 to August 17.  Click here for information on how to submit testimony in advance or to view the meeting.
Photo courtesy Hawaii Department of Education