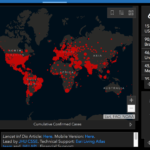 The Johns Hopkins COVID-19 Dashboard for Thursday, July 30, at 7:35 a.m.:
Worldwide cases: 17,109,335    Worldwide deaths: 668,589
U.S. cases: 4,461,585   U.S. deaths: 151,269
According to the Dashboard, the reported worldwide cases increased by 289,391 in the last 24 hours, and 6,508 deaths due to COVID-19 were reported.
According to the Johns Hopkins Dashboard, the United States has added 74,171 cases in the last 24 hours, and reported deaths attributed to COVID-19 have increased by 1,396.  Worldometer says 2.25 million people have recovered.
Hawaii continues to have a relatively low case count compared to the rest of the country, with 1,865 cases, and 1,215 released from isolation as of Wednesday.  But Wednesday's daily case count of 109 has concerned state officials.  The jump was not unexpected, since the State Lab and some private labs weren't working to process tests between Saturday and Monday, but nevertheless, in a press conference Wednesday afternoon, Gov. David Ige said he's working with the Mayors of all counties and expects to reinstate some restrictions, such as limiting gatherings to no more than 10.  Mayor Mike Victorino of Maui has asked the Governor to reinstate the interisland travel quarantine, and Mayor Kirk Caldwell has received the Governor's approval to shut down bars for 3 weeks.  Caldwell said he and his team are talking with bar owners now about precautions.
Hawaii County had only 2 active cases as of Wednesday afternoon, and in a press conference yesterday, Mayor Harry Kim said he does not support reinstating the 14-day interisland travel quarantine and urged everybody on the island to continue to wear masks and practice all the COVID-19 precautions.
In the Governor's press conference, State Health Director Bruce Anderson said few cases now are travel related, and that community spread of the novel coronavirus is the primary cause.  He said people have let down their guard and have been gathering in groups, often without masks, and cases are now associated with gatherings in bars (12 or more associated with two bars) and at the beach, funerals (one with at least 36 cases), and parties.  He said to expect more cases today.
In the Governor's press conference, Lt. Gov. Josh Green, M.D., said the state's hospital, ICU bed, and ventilator capacity is still good.