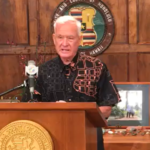 City and County of Honolulu Mayor Kirk Caldwell announced on Thursday that bars  on O'ahu will be shut down starting tomorrow, Friday, July 31, for three weeks.  Restaurants are also prohibited from selling, serving, or allowing alcohol to be consumed after 10 p.m.  This action comes in the wake of having 120 new cases of COVID on O'ahu on Thursday, and 98 new cases on Wednesday.
Caldwell said the penalty for violation of these orders could result in penalties and fines and possibly the facility losing tits liquor license.
O'ahu has a cumulative 1,637 cases, with 944 released from isolation.  At least 12 cases of COVID within the past several days were associated with bars.  Caldwell said bars were the last to open because it's a challenge for bar patrons to wear masks and to stay apart from each other–often it's noisy and people lean in close and shout.
Caldwell said in three weeks he will reevaluate the situation and ask the Governor to allow him to reopen bars, likely with new conditions, and maybe allow restaurants to serve alcohol after 10.  He said restaurants are less of a COVID challenge because people are seated at tables, and therefore are automatically a little far apart from each other, and the tables can be separated to keep groups separate.
Caldwell also said he'll consider other restrictions if warranted.