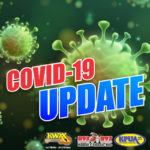 The state has hit the highest number recorded since COVID-19 tracking began in March, with 124 new cases.  Lt. Governor Josh Green, who's also an emergency room doctors, said this morning he is extremely concerned about the spread.  He's also concerned about the state's ability to do contact tracing with such a high number of new cases.  Most of the cases on O'ahu in the past month are community spread, rather than travel-related, according to State Department of Health Bruce Anderson at a Wednesday press briefing.
The state's total count is now 1,989 with 1,226 released from isolation and monitoring.
In today's count, Hawaii Island actually went down one, due to updated information, and that case was reclassified as an O'ahu resident.  Hawaii County's cumulative case count is 115, with only 1 active case.
Maui County added 4 cases, and 120 new cases were reported on O'ahu.
There were no new deaths from COVID-19.
Although L.G. Dr. Green noted on Wednesday that the state has adequate hospital, ICU bed, and ventilator capacity to handle a surge, he said he's concerned about the future, as around 10% of all COVID patients end up in the hospital.  Governor David Ige said he is considering reimposing restrictions, such as limiting gatherings to 10, and he and the county Mayors will come up with a plan.
The state's county-by-county detailed report:
Hawaii County
| | |
| --- | --- |
| Total Cases: | 115 |
| Released from Isolation: | 114 |
| Required Hospitalization: | 4 |
| Deaths: | 0 |
Honolulu County
| | |
| --- | --- |
| Total Cases: | 1,637 |
| Released from Isolation: | 944 |
| Required Hospitalization: | 144 |
| Deaths: | 19 |
Kauai County
| | |
| --- | --- |
| Total Cases: | 47 |
| Released from Isolation: | 42 |
| Required Hospitalization: | 1 |
| Deaths: | 0 |
Maui County
| | |
| --- | --- |
| Total Cases: | 167 |
| Released from Isolation: | 126 |
| Required Hospitalization: | 26 |
| Deaths: | 6 |
Out of state
| | |
| --- | --- |
| Total Cases: | 23 |
| Released from Isolation: | 0 |
| Required Hospitalization: | 2 |
| Deaths: | 1 |
Pending
| | |
| --- | --- |
| Total Cases: | 0 |
| Released from Isolation: | 0 |
| Required Hospitalization: | 0 |
| Deaths: | 0 |