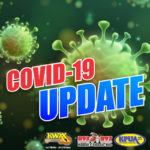 The State Department of Health has announced that 123 new cases of COVID-19 have been confirmed in Hawaii, as of noon Friday.  None of them are on the Big Island of Hawaii, which has 115 cumulative but no active cases,  nor Kaua'i.
Statewide, the cumulative total is now 2,111, with 1,243 released from isolation and monitoring.  The afternoon update from State Department of Health noted that today, 18 of the 123 cases are juveniles, and on Thursday, 32 of the 124 cases were juvenile.
Maui County has 4 new cases.  O'ahu has 119 new cases.
On Thursday, Mayor Kirk Caldwell imposed new restrictions on O'ahu, closing all bars for 3 weeks, and restricting restaurants to only serving alcohol prior to 10 p.m. after seeing  120 new cases of COVID on O'ahu on Thursday, and 98 new cases on Wednesday.  State Department of Health has said most cases now are community spread, and the result of gatherings, no face masks, and no social distancing.
There were no new deaths from COVID-19, and the state's death toll remains at 26, the lowest per capita in the country.
Although L.G. Dr. Green noted on Wednesday that the state has adequate hospital, ICU bed, and ventilator capacity to handle a surge, he said he's concerned about the future, as around 10% of all COVID patients end up in the hospital.  Governor David Ige said he is considering reimposing restrictions, such as limiting gatherings to 10, and he and the county Mayors will come up with a plan.  At a rare press conference on Wednesday, Hawaii County Mayor Kim said he does not want to believe an interisland flight quarantine should be reimposed, although Maui Mayor Mike Victorino has asked the Governor to reimpose that restriction.
Hawaii County has a mask mandate in place, as does the state.
The State DOH detailed chart:
Hawaii County
| | |
| --- | --- |
| Total Cases: | 115 |
| Released from Isolation: | 115 |
| Required Hospitalization: | 4 |
| Deaths: | 0 |
Honolulu County
| | |
| --- | --- |
| Total Cases: | 1,755 |
| Released from Isolation: | 960 |
| Required Hospitalization: | 146 |
| Deaths: | 19 |
Kauai County
| | |
| --- | --- |
| Total Cases: | 47 |
| Released from Isolation: | 42 |
| Required Hospitalization: | 1 |
| Deaths: | 0 |
Maui County
| | |
| --- | --- |
| Total Cases: | 171 |
| Released from Isolation: | 126 |
| Required Hospitalization: | 26 |
| Deaths: | 6 |
Out of state
| | |
| --- | --- |
| Total Cases: | 23 |
| Released from Isolation: | 0 |
| Required Hospitalization: | 2 |
| Deaths: | 1 |
Pending
| | |
| --- | --- |
| Total Cases: | 0 |
| Released from Isolation: | 0 |
| Required Hospitalization: | 0 |
| Deaths: | 0 |