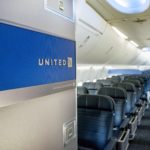 United Airlines today announced it is restoring service between the mainland and Hilo and Lihue, Kaua'i, as well as increasing service between the mainland and Kona, Honolulu, and Maui.  The airline is also expanding its service to domestic and international destinations, beginning in September.
Because of COVID-19, United had stopped flights coming into the Big Island.  Flights between San Francisco and Kona resumed July 1.
Domestically, United intends to fly 40% of its schedule.  Internationally, United intends to fly 30% of its schedule as compared to September 2019.
United is also extending its waiver of change fees and award redeposit fees for reservations through August 31.
United Airlines, as most airlines, requires that passengers wear masks in the waiting area and in flight.