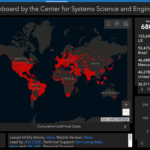 The Johns Hopkins COVID-19 Dashboard for Saturday, August 1, at 5:35 a.m.
Worldwide cases: 17,639,185    Worldwide deaths: 680,575
U.S. cases:  4,579,761    U.S. deaths: 153,642
According to the Dashboard, the reported worldwide cases increased by 304,646 in the last 25 hours, and 6,537 deaths due to COVID-19 were reported.
According to the Johns Hopkins Dashboard, the United States has added 83,024 cases in the last 25 hours, and reported deaths attributed to COVID-19 have increased by 1,568.
Worldometer says 2.3 million people in the U.S. have recovered.
In an upcoming Island Conversations interview with health officials from Kaiser Permanente Hawaii, Kaiser's Chief Nurse Executive Kate Roche points out that depending on the severity of the disease in an individual,  if people have been hospitalized for a long period, recovery can be long and may include the need for physical rehabilitation.  That discussion will be available at www.kwxx.com/podcast/island-conversations starting at 6 a.m. on Sunday, August 2.
In Hawaii, the COVID-19 case count is now at 2,111, with 1,243 people listed as no longer being monitored.  The case counts in the last few days have been in triple digits (123-124-109) with most new cases on O'ahu — including more than 50 juveniles affected in the past few days.  After State Department of Health Director Bruce Anderson insisted repeatedly that the state has sufficient contact tracers to track down the virus spread in order to have people isolate, Gov. David Ige in a Wednesday press conference acknowledged that the state does not have enough contact tracers and said he was considering using the National Guard.  Anderson says that 400 people have been trained as contact tracers recently by the University of Hawaii, but the State DOH web site says it has 77 contact tracers being used now, and 196 trained.  But it's not clear what the Department plans to do about hiring and using those who have been trained.