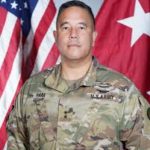 Hawaii Emergency Management Agency director General Kenneth Hara has revoked the travel quarantine exemption for military service members coming into Hawaii and their family members.  In May, at the request of the U.S. INDO Pacific Command,  Gen. Hara had provided an exemption from the 14-day travel quarantine for incoming military members and their family.
As of Friday, August 7,  arriving military service members must check with their commands for current orders and policies regarding restriction of movement. The military is following all state directed restrictions, specifically, the mandatory 14-day travel quarantine.  This also applies to all Department of Defense employees and government contractors.
This policy change comes as Hawaii has experienced a surge in COVID-19 cases that has State Director of Health Bruce Anderson saying that by the end of the month,  O'ahu hospital Intensive Care Unit beds could be full, or beyond capacity.   Gov. David Ige on Friday issued a formal order reinstating the 14-day interisland travel quarantine for any travel to neighbor islands.  Those traveling from a neighbor island to O'ahu do not need to quarantine.  The number of known active cases of COVID-19 on O'ahu is now around 1,556.
Although any cases among military members or their family are included in the state's total COVID-19 count, there is no breakdown of how many in the military may be included in the number of cases.