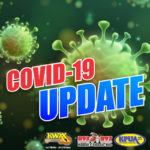 Hawaii State Department of Health is reporting 230 new cases of COVID-19 in the state.  That brings the state's cumulative case count to 6,072 , with 3,954 active cases.  There has been one additional death on O'ahu, bringing the week's additional death toll from COVID-19 to 6, and the overall total to 46.
The Big Island now has 177 cumulative cases, an increase of 13 over Thursday.  That means that 41 cases are active.   Earlier today, Hilo Medical Center confirmed it had (at the time) seven patients with COVID-19 in the hospital, and have specific COVID-19 precautions in place.   Kona Community Hospital spokesperson Judy Donovan said that hospital has NO COVID-19 patients, and the spokesperson for  North Hawaii Community Hospital said they are not saying.  Mayor Harry Kim late Thursday said he's asking Gov. David Ige to approve a requirement on the Big Island to reduce the size of gatherings.   Even without that as a mandate, health officials are pleading with people on the island to stay apart, and wear masks.   Wearing a mask in public and always in stores is a mandate on the island now.
Kaua'i has added 2 cases, its first increase in more than a week.  Maui County has added 6 cases.  O'ahu has 209 new cases (note, 2 cases were removed from O'ahu's overall count because of updated information, according to State DOH).
Hawaii County
| | |
| --- | --- |
| Total Cases: | 177 |
| Released from Isolation: | 136 |
| Required Hospitalization: | 7 |
| Deaths: | 0 |
Honolulu County
| | |
| --- | --- |
| Total Cases: | 5,547 |
| Released from Isolation: | 1,720 |
| Required Hospitalization: | 292 |
| Deaths: | 38 |
Kauai County
| | |
| --- | --- |
| Total Cases: | 56 |
| Released from Isolation: | 50 |
| Required Hospitalization: | 1 |
| Deaths: | 0 |
Maui County
| | |
| --- | --- |
| Total Cases: | 269 |
| Released from Isolation: | 166 |
| Required Hospitalization: | 35 |
| Deaths: | 7 |
Out of state
| | |
| --- | --- |
| Total Cases: | 23 |
| Released from Isolation: | 0 |
| Required Hospitalization: | 2 |
| Deaths: | 1 |
Pending
| | |
| --- | --- |
| Total Cases: | 0 |
| Released from Isolation: | 0 |
| Required Hospitalization: | 0 |
| Deaths: | 0 |