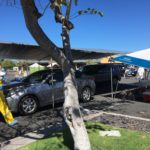 The County has scheduled two COVID-19  test sites scheduled for tomorrow.
There will be drive-through testing at Kea'au High School from 9 a.m. until 1 p.m.
There will also be testing at Kamehameha Park in Kapa'au, North Kohala, from 10 a.m. until 2 p.m.
Testing is at no charge, though everybody with insurance should bring their card.  The County is eager to have as many people who need testing to have it.  This includes anybody exposed to a person with COVID-19–whether or not either one has symptoms, front line workers, people with symptoms, people without symptoms who have a concern or are vulnerable, according to Dr. Scott Miscovich of Premier Medical Group.