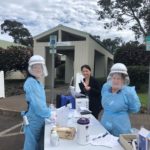 The County has scheduled two COVID-19 testing sites for today.
There will be drive-through testing at Kea'au High School from 9 a.m. until 1 p.m.
There will also be testing at Kamehameha Park in Kapa'au, North Kohala, from 10 a.m. until 2 p.m.
Testing is at no charge, though everybody with insurance should bring their card.  The County is eager to have as many people who need testing to have it.  This includes anybody exposed to a person with COVID-19–whether or not either one has symptoms, front line workers, people with symptoms, people without symptoms who have a concern or are vulnerable, according to Dr. Scott Miscovich of Premier Medical Group.
The positivity rate on the island, according to the most recent State Department of Health report, the positivity rate for tests conducted on the Big Island on August 30 was 4.2%, and has been trending downwards since then, to around 2% for yesterday's testing.  That means that the virus is not spreading widely in the community.  In a meeting of the State House Select Committee on COVID-19, Dr. Mark Mugiishi of HMSA said that when Hawaii was at its worst, the positivity rate was around 14%, and our spread person-to-person was the highest in the nation.  He said that indicators now are that the positivity rate is going down, and 2% is what the whole state was when it was at its lowest spread.    He said now, it's clear that the spread is from times when people let their guard down–large gatherings, no masks, no distancing, rather than wide spread in the community that is uncontrollable.