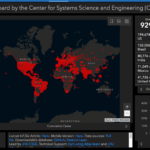 The Johns Hopkins COVID-19 Dashboard for Tuesday, September 15, at 5:26 a.m.:
Worldwide cases:     29,335,771    Worldwide deaths:  929,613
U.S. cases:  6,557,802   U.S. deaths:  194,674
According to the Dashboard, the reported worldwide case report increased by 275,903 in the last 24 hours.  Deaths worldwide increased by  4,660.
According to the Johns Hopkins Dashboard, the United States has added 31,659 cases in the last 24 hours.  In that time,  the number of reported deaths from  COVID-19 increased by 519.
On Monday, the state added only 80 cases–the lowest number in many days.  It is likely fewer tests were done over the weekend, but the positivity rate in the state has been trending downward.  The current total case count in the state is 10,779 with just under 7,000 active cases.
On Monday, the Big Island added 7 cases.   The island now has 594 total cases with 26 active.   The daily case counts for Hawaii County have decreased–during the first five days of September, daily increases ranged from 17 to 35, and over the past week, they've ranged from 6 to 21.
Fourteen people on the island have died from COVID-19, 13 of them residents at the Yukio Okutsu Veterans Home.