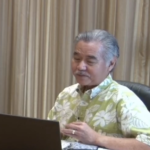 Governor David Ige says the state will probably not reopen to tourism October 1. The State was previously going to open August 1, then September 1. Ige made the statement in an interview in the Honolulu Star-Advertiser's "Spotlight Hawaii" Facebook Live program on Monday.
The initial plan was to allow visitors from out of state to bypass the current 14-day quarantine if they had a negative COVID-19 test within 72 hours of coming to Hawaii.
When the plan was suggested, Hawaii had a low rate of infection and the mainland had a high rate. There was concern about overwhelming the state's hospitals if the cases in the state spiked.  Then in August, Hawaii became the worst in the nation for the rate of infection.
Now, according to Dr. Mark Mugiishi of HMSA, in Monday's State Senate Select Committee on COVID-19, Hawaii's positivity rate is trending down and the infection rate from person to person has gone from being the highest in the country in August to now the lowest.
Ige provided no further details. He said he'll release more information in the coming days.
Photo is Gov. David Ige in a previous Facebook Live talk.