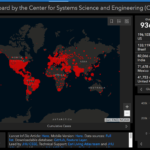 The Johns Hopkins COVID-19 Dashboard for Wednesday, September 16, at 5:26 a.m.:
Worldwide cases:     29,624,865    Worldwide deaths:  936,313
U.S. cases:   6,600,566    U.S. deaths:  196,103
According to the Dashboard, the reported worldwide case report increased by 289,094 in the last 24 hours.  Deaths worldwide increased by  6,700.
According to the Johns Hopkins Dashboard, the United States has added 42,764 cases in the last 24 hours.  In that time,  the number of reported deaths from  COVID-19 increased by 1,429.
On Tuesday, the State has only 66 new COVID-19 cases today, bringing the total to 10,844. The active case number is approximately 6,859. The number of deaths reported by State Department of Health is 100, but that number does not include 12 of Hawaii Island's known deaths.
The Big Island on Tuesday added only 6 new COVID-19 positive cases, the lowest case count in days.  The island's cumulative total is 599, with around 222 active cases.   The total deaths from COVID-19 on the island:  15, with 14 of them being residents of the Yukio Okutsu Veterans Home.