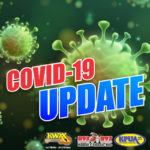 The State has 102 new confirmed COVID-19 cases.  The total cases number 10,946, with around 6,738 active cases.  There have been 103 deaths in the official count, but that count does not include all who have died from COVID-19.
The Big Island has a cumulative 603 cases, and only 4 new, with around 199 active cases.   This morning's Hawaii County Civil Defense report said there has been one additional death, bringing the island's count to 16.  Only 3 are shown in the State report.   The latest death was also a resident of the Yukio Okutsu Veterans Home.
There are no new cases on Kaua'i or in Maui County.   There is one new case out of state.  O'ahu has 97 new cases.
Hawaii County
| | |
| --- | --- |
| Total Cases: | 603 |
| Released from Isolation: | 394 |
| Required Hospitalization: | 27 |
| Deaths: | 3 |
Honolulu County
| | |
| --- | --- |
| Total Cases: | 9,879 |
| Released from Isolation: | 3,412 |
| Required Hospitalization: | 590 |
| Deaths: | 90 |
Kauai County
| | |
| --- | --- |
| Total Cases: | 58 |
| Released from Isolation: | 57 |
| Required Hospitalization: | 1 |
| Deaths: | 0 |
Maui County
| | |
| --- | --- |
| Total Cases: | 378 |
| Released from Isolation: | 242 |
| Required Hospitalization: | 47 |
| Deaths: | 9 |
Out of state
| | |
| --- | --- |
| Total Cases: | 28 |
| Released from Isolation: | 0 |
| Required Hospitalization: | 2 |
| Deaths: | 1 |
Pending
| | |
| --- | --- |
| Total Cases: | 0 |
| Released from Isolation: | 0 |
| Required Hospitalization: | 0 |
| Deaths: | 0 |