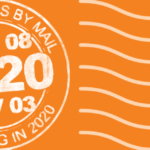 Today is the last day to register in advance of the 2020 General Election.  Although interested voters may register and vote on the same day between Oct. 20 and Nov. 3  at one of two Voter Service Centers on the island, at Aupuni Center in Hilo or at the West Hawaii Civic Center in Kona, advance registration means you will get your ballot in advance and have a chance to spend more time to consider the candidates and the 16 Charter Amendments.
Register today online at elections.hawaii.gov OR at the County Elections Offices at West Hawaii Civic Center or the Hilo County Building between 8 a.m. and 4:30 p.m.
Or, today, the county is sponsoring Wiki Wiki Voter Registration Drive Thru from 9:00am-4:30pm.  Anybody interested must bring identification.  And of course, mask-wearing is mandatory.
There are 3 locations to register via the Wiki Wiki:
Hilo County Building parking lot, 25 Aupuni St, Hilo HI  96720
Pahoa Malama Market, 15-2664 Pahoa Village Rd, Pahoa HI  96778
Kona Safeway parking lot, 75-1027 Henry St, Kailua-Kona HI  96740
For those who register in advance, ballots will be mailed out starting this Wednesday, Oct. 7, 2020.