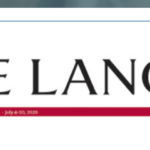 The Lancet, an independent medical journal established in 1823, has reported on a study that confirmed that a 25-year-old man contracted COVID-19 twice–albeit two different strains of the novel coronavirus.  This is the first documented case of a second infection in the U.S.
The Washoe County, Nevada, resident tested positive for COVID-19 on April 18, 2020 and again on June 5, 2020.  The test method was the standard PCR test, using nasopharyngeal swabs (the Nucleic acid amplification test considered to be the "gold standard" of COVID-19 testing).
Researchers confirmed that the tests came from the same individual.  The genetic analysis showed that both samples were SARS-CoV-2, the virus that causes COVID-19, but there were genetic differences between the two.    The man had more severe symptoms with the second infection.
Researchers concluded that previous exposure to the SARS-CoV-2 virus might not guarantee immunity for any length of time.  The article also noted that even people who have had confirmed COVID-19 cases need to take all the usual precautions of mask-wearing, distancing, hand washing, and avoiding gatherings.
The article says there have been other cases of a second infection reported in Hong Kong, the Netherlands and Belgium, and Ecuador.
The study was funded by Nevada IDEA Network of Biomedical Research, and the National Institute of General Medical Sciences (National Institutes of Health).